Francis Maguire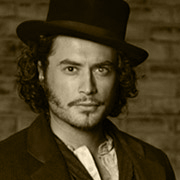 "I'm a damn good copper – probably the only thing I was ever good at."
–Francis Maguire
Biography
Edit
Detective Francis Maguire is Corcoran's closest friend and partner in the Sixth Precinct. Maguire assists Corcoran in his search for his missing wife, as well as in navigating the underground criminal world of Five Points. Though he cares deeply for those closest to him, Maguire possesses a quick temper and occasionally loses control. Enamored with Molly Stuart, Maguire harbors a desire to settle down and marry.[1]
Arrived in America around the age of 9. His father died while crossing the Atlantic. He had a twin, but he died before the family reached America. Father Burke helped Maguire and his mother until they could provide for themselves. He was a boxer until he was injured while boxing. He then trained Kevin. When the war started he was unable to participate because of his injured eye. (This information was gathered through interviews and the TV show.)
Relationships
Edit
Ellen Corcoran - Ex-Lover (Had an affair while Kevin Corcoran was away at war)
Molly Stuart - Lover
Mary Lockwood (deceased)  - Engaged 
Memorable Quotes
Edit
"I'm a damn good copper – probably the only thing I was ever good at."
References
Edit