Molly Stuart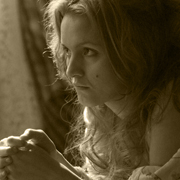 Portrayed by
Tanya Fischer
"You're quite the beauty, and I'm quite the jealous bitch."
–Molly Stuart
Biography
Edit
Molly Stuart is an ambitious courtesan at Eva's Paradise. Flirtatious and beautiful, Molly entertains several gentlemen from both Uptown and Five Points in her quest to rise to the top of her profession. Adored by Maguire, and seeking to gain favor with Corcoran, Molly's big heart and free-spirited nature can embroil her in others' affairs. Despite her taboo career choice, Molly possesses a deep sense of right and wrong.[1]
Relationships
Edit
In Surviving Death, We see that Molly has a crush on Kevin but has a relationship, of sorts, with Francis. She and Eva hide Annie Reilly at the request of Kevin to keep the girl safe.
In Husbands and Fathers, Molly plays a part in the revenge killings of Winfred Haverford, who murdered and then raped Annie's sister and the madame who prostituted the girls. It is around this time that Molly and Kevin carry on a sexual relationship while Eva is away in New Orleans.
In The Empty Locket, Molly is at a  pawn shop when she sees the locket that Kevin has been searching for. She purchases the locket and upon showing it to Eva, Eva gets angry with her taking the locket. Ava eventually gives the locket back with the warning that Molly is not to tell Kevin that she ever had it. Molly gives the locket to Kevin and tells him about finding it in the shop.
Francis asks Molly to marry him and she accepts with the condition that he pawn his mother's bracelet to buy her a proper ring. Molly and Eva are in Molly's room discussing the engagement when Molly tells Eva that she has no intention of marrying Francis. Eva begins to brush Molly's hair when she yanks her head back, tells Molly that she knows Molly was sleeping with Kevin while she was away and slits her throat with a razor. 
Memorable Quotes
Edit
"You're quite the beauty, and I'm quite the jealous bitch."
References
Edit