Robert Morehouse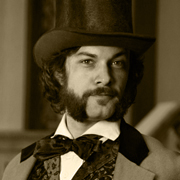 "My greatest talent is the ability to disappoint."
–Robert Morehouse
Biography
Edit
A handsome bon vivant and part of the Manhattan aristocracy, Robert Morehouse and Corcoran were mustered out of the 71st Regiment together. Though raised in a life of privilege, Morehouse was changed by the war and now sees the lower class, particularly Irish and African-Americans, as his equals – much to his father's dismay. Spending more time drinking and cavorting with prostitutes than making a name for himself in the business world, Morehouse consistently falls short of his father's expectations.[1]
During season 1 Robert's father stated that his wife drank herself to death. It  is unknown how old Robert was when his mother died. Once he joined the war he became a Major. Kevin was under his command and Freeman was his valet. Robert tells Elizabeth that he sustained a leg injury in Virgina where a 58 caliber bullet was stuck in his leg. Later he tells Kennedy that he was left for dead on the battle field as the other side his not deem him fit to be captured. Freeman saves his life by cutting off his leg. Wanting to hide this fact, when he gets home his family tells everyone that Kevin saved his life and pays Freeman money to keep quiet. (This information was obtained through interviews and the TV show.)
In Season 2 Robert marries Elizabeth Haverford.  He finds out that she was involved with Kennedy's plot to burn down New York City.  He tries to help Matthew Freeman publish his papers on the contaminated water outbreak, but that plan is thwarted by his father and Elizabeth.  He helps Kevin Corcoran when he goes up against Tammany Hall and General Donovan.  We find out that the reason he drinks so much is to drown out the memories and traumas of war.  At the end of season two he journeys back to the battlefield with Kevin Corcoran and Matthew Freeman in the hunt for John Wilkes Booth. 
Relationships
Edit
Elizabeth Haverford - Wife 
Norbert Morehouse - Father 
Memorable Quotes
Edit
"My greatest talent is the ability to disappoint."
"When you're rich, it's easy to be a hero"
"Fortune positively smiles down on me tonight"
"And then you will be dead, same as all who have gone before you, same as all of us who will follow, and none of it will matter - not at all."
References
Edit