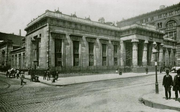 Tombs Prison (a.k.a. The Tombs) is a non-fictional building mentioned quite frequently in Copper.
Non-fictional History
Edit
The plan for Tombs was laid out in 1835 and was to be a replacement of Bridewell Prison. Due to construction costs, much of the granite from Bridewell was reused to build the Tombs structure, which was completed in 1838.[1]
Because the Egyptian Revival styled prison was built on piles embedded in former Collect Pond (it had become contaminated and in 1819 was drained and filled in), it began to sink just after its completion. It was not long before prisoners suffered from its unsanitary existence.[1][2]
The original Tombs building was eventually demolished in 1902. It went through several replacements until 1972, which remains as the current structure.[1]
It is located in Five Points and took up the entire block of Centre, Franklin, Elm and Leonard streets.
[1]
It is marked on the map, in lower Manhattan, as Gray Marker 1.
Historical Trivia
Edit
The contractor who built the prison was later convicted of forgery and was imprisoned in Tombs. He famously said, "I never dreamed when I built this prison that I would be an inmate one day."[3]
During the American Civil War, Confederate prisoners of war were held in the prison. [2]
In the Series
Edit
Tombs is mentioned several times during series one.
Series Trivia
Edit
References
Edit